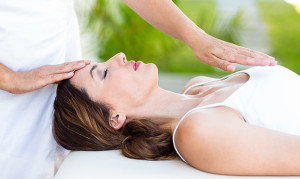 Are you dealing with cancer or another illness?
Does your immune system need strengthening for optimal health?
Healing Touch is an energy-based approach to health and healing.
It is based on a heart-centered, caring relationship in which the practitioner (Angelika) and client come together energetically to facilitate the client's health and healing.
This hands on healing approach uses the gift of touch to influence the human energy system, specifically the energy field that surrounds the body (the aura), and the energy centers (the chakras) that control the flow from the energy field to the physical body. The chakras must be open and flowing for the physical body to be in a total state of health and well-being.
These techniques are totally non-invasive and simply require the use of a practitioners hands to clear, energize, and balance the clients energy fields. This creates the shift in energy required for healing on the physical, mental, emotional and spiritual levels.
Angelika has journeyed with many cancer patients to assist and support them in the choices they make for their healing. If they choose the path of conventional medicine such as chemo or radiation, the energy work assists in strengthening the immune system, balancing the chakras and keeping the lymph system and the aura clear. It also reduces the side effects of the treatment, assists with pain relief and generally cuts the healing time in half. If surgery is required, there is a pre and post treatment to assist in preparing the body for the surgery so there is less pain and in post to assist the healing process.
The client is required to lay on their back on a massage table in a very relaxed environment while the practitioner restores balance and harmony in the energy system, placing the client in a position to selfheal.
If you or a loved one are facing dis- ease, Angelika would be honored to journey with you.
Angelika has done work at the Wellwood Cancer Clinic at the Henderson Hospital in Hamilton, working mainly with breast cancer patients.
Your body is talking to you and when you aren't listening it creates an illness to get your attention. We explore the meaning of your illness so you can make the lifestyle changes to come back to a state of health and well-being on the physical, emotional, mental and spiritual levels.
If you or a loved one is facing illness,
Book Your Session Today
Be Inspired by our free Newsletter